"The mid-90s was a period of great positive change in Waitakere City. The Council was working well as a unit and the community was on board with us, driving our eco-city strategies forward in a wide range of practical ways. I also recall the mounting abhorrence toward graffiti and its negative effect on our otherwise beautiful city – few issues at that time were uniting all corners of the community like this one"
Derek Battersby- Tag Out Trust Chairman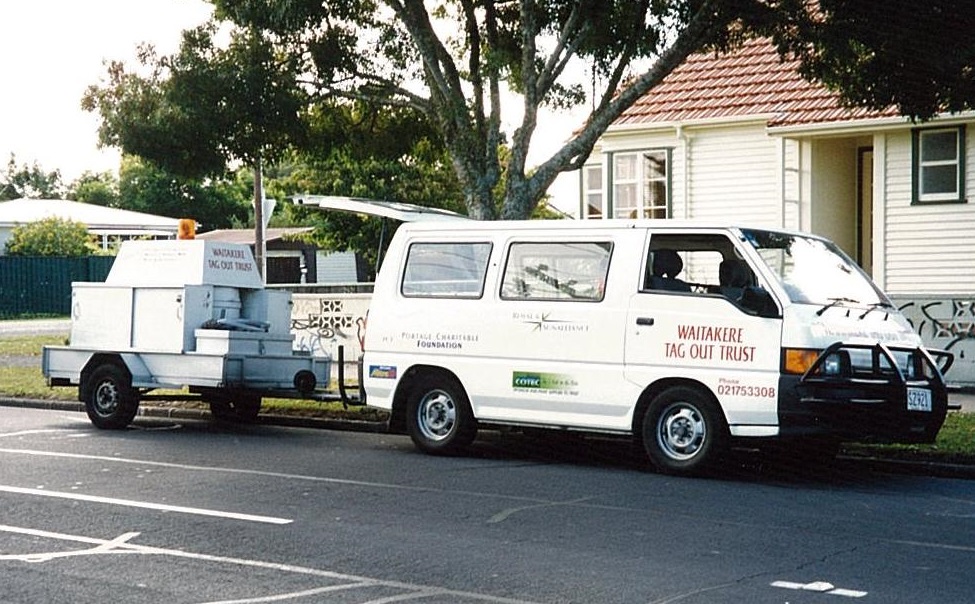 In 1996, Councillor Derek Battersby and Iris Donoghue, chair of the Keep Waitakere Beautiful Trust, had a great idea.
They believed that graffiti could be controlled, and eventually beaten, by a combination of aggressive removal, youth education and community volunteer support. Waitakere City Council and the Portage Licensing Trust agreed and provided funding for a pilot study in New Lynn the following year.
The tremendous success of that first initiative led to a partnership agreement and three-year contract in July 2000 for all of West Auckland providing graffiti eradication, youth offending enforcement services and community education programmes for West Auckland.
Further contracts were awarded in 2003, 2006 and 2009. Yearly contract extensions continued until 2013 the last year of the legacy Waitakere City Council at which point Tag Out was awarded the Graffiti Eradication contract under the newly formed Auckland Council.