Community Service Programme
Funded by the TTCF the Community Service Programme provides a safe, supervised and free service for youths between the ages of 14 to 17 to complete directed community service hours in West Auckland. It provides them the chance to right their wrongs.
The CSP also encourages, and supports any community groups or businesses wishing to make a difference locally in the form of running large paint out graffiti days and Adopt -A- Spot initiatives.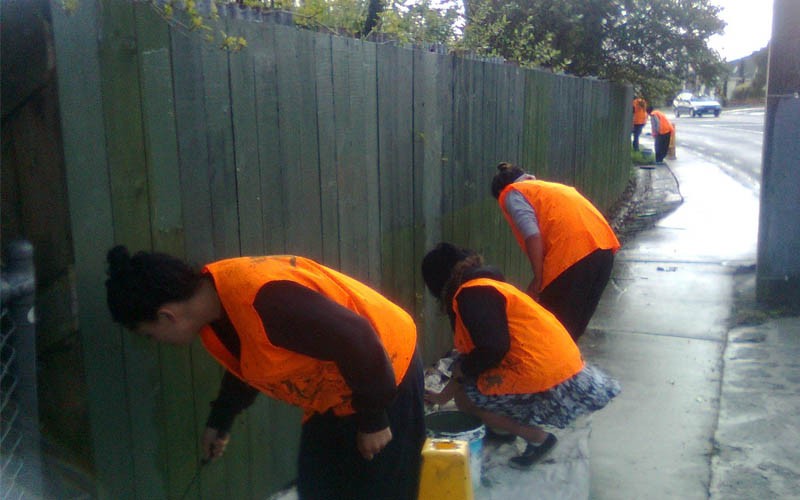 The Community Service Programme (CSP)was founded with funding support from the Trust Charitable Foundation (TTCF), enabling a coordinator, vehicle and equipment to provide structured graffiti removal activities for youths receiving community service sentences. Since 2007 the CSP has had a significant impact on graffiti vandalism in West Auckland. This has been achived by working with Youth Justice, the NZ Police, Youth Court, Child Youth and Family, schools and family and care givers themselves.
Tag Out's CSP is unique in that it holds graffiti vandals to account by taking them back to their neighbourhood to remove not only their own tags but their peers' too. This has been an early part of our approach to reducing graffiti vandalism in West Auckland while providing real opportunities for young offenders to reduce the consequences of their past and eventually get out of crime altogether.
The CSP runs 5 days a week from Tuesday to Saturday, weather permitting. Young offenders are taken by our supervisor to various parts of West Auckland where either graffiti has been reported or the operations team knows that the area is a hot spot. There they undertake graffiti removal and any other litter collection and general tidying duties that may be required.
Through the CSP, offenders are taught three core values: Respect, Responsibility and Restoration.
The Community Servbice programme is not just about working with youth offenders but also works with community groups, bussinesses, churches and schools who all want to give back to the communities through organised graffiti paint out days.