Massey Birdwood Settlers Hall Mural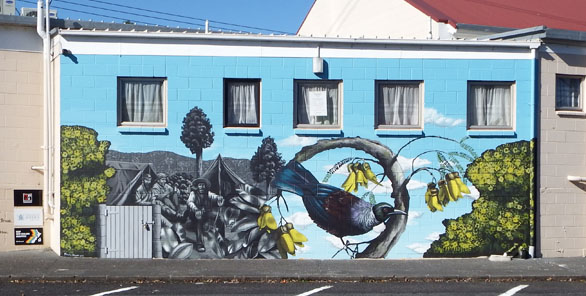 Click image to enlarge
The Massey Birdwood Settlers Hall Mural was completed in time for the launch of Keep New Zealand Beautiful's paint NZ Beautiful Week on the 29th June 2013. The mural was a collaborative project between the Massey Birdwood Settlers Hall Trust, Tag Out Trust, Keep NZ Beautiful, Massey Matters, the Department of Corrections and the artist Mandy Patmore.
The design of the mural was influenced by past, present and future with an emphasis on native flora and fauna. The students of Massey Primary School contributed with hand prints to represent leaves on the trees. The completed mural was kindly protected with an anti-graffiti coating applied free of charge by Graffiti Solutions.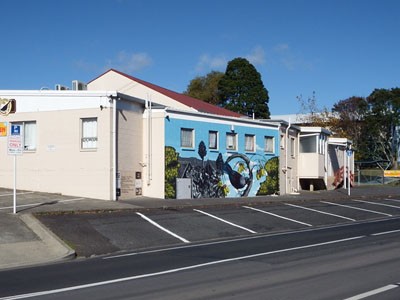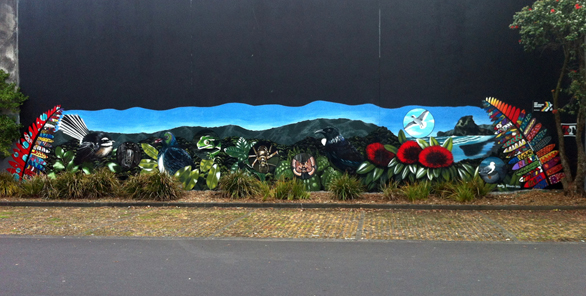 Click image to enlarge
Completed in Septmber 2013 the mural was aimed to discourage graffiti vandals from re-offending in this car park. Project managed by Tag Out's Terry Davis In partnership with KNZB, Resenes, Framework Trust and artist Mandy Patmore.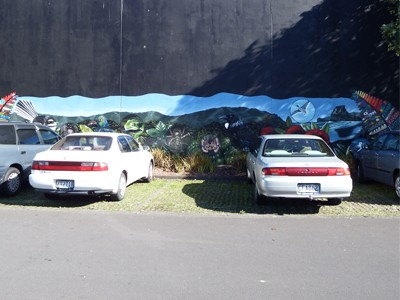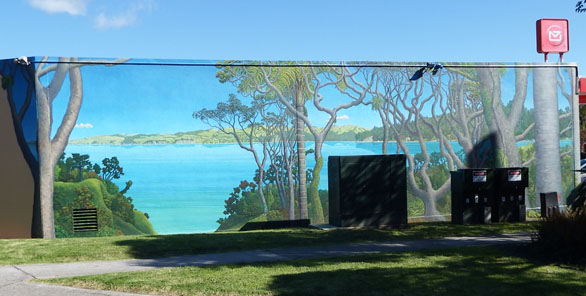 Click image to enlarge
The Green Bay Mural was completed in April 2014 and depicts the Maunkau Harbour with view through to Huia. The project was managed by the Tag Out Trust. The artist was Doug Ford and the artwork was kindly protected free of charge by Graffiti Solutions.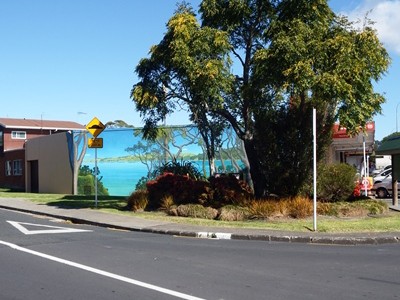 Henderson Animal Shelter Mural

Click image to enlarge
The Henderson Animal Shelter approached Tag Out to ask if we would consider doing a mural for the shelter. The wall proposed was 15metres long by 1.5 metres high and is located in the dog adoption viewing area where the families view the dogs. Most of the play equipment and work done in this area has been donated or done by volunteers.
Tag Out Trust decided to cover the cost and after meeting with shelter staff and local artist Doug Ford it was decided the theme will follow the journey of an abandoned dog being rescued right through to a successful adoption. The mural contains educational themes around good dog practises and ownership.